Jedi Knights have access to two specializations: Jedi Sentinel and Jedi Guardian. The following will explain the pros and cons of both and what they're designed for.
Jedi Guardian
A wall between the good people of the Republic and their enemies, the Guardian stands firm in the face of overwhelming odds and dares opponents to attack. Perfect concentration and use of the Force allows smooth movement even in heavy armor–making the Guardian a hard target to take down. Leaders on and off the battlefield, Guardians are known for inspiring allies to amazing feats, making them invaluable for conflicts of any size.
Primary Focus:
Single Saber
Melee Combat
Maintaining Aggro Of Mobs
Heavy armor
Tank or heavy DPS
Skill Trees
The two Guardian skill trees are Vigilance and Defense. The shared Guardian and Sentinal skill tree is Focus.
Vigilance – Orovides greater skill in single-blade offense and the ability to take enemies down quickly.
Defense – Allows the Guardian to more effectively withstand enemy attacks and protect allies.
Focus – Specializes in advanced Force techniques and the Shii-Cho lightsaber form.

Abilities
Below is a full list of the abilites that a Jedi Guardian can learn. Please note that a Jedi Guardian is still a Jedi Knight as well, so remember to see what other abilites they will learn from their Jedi Knight ability list.
| | |
| --- | --- |
| Name | Description |
| Armor Proficiency: Shield Generator | Able to equip a personal shield generator. |
| Armor Proficiency: Heavy | Able to equip heavy combat armor. |
| Guardian Strike | Hits your target inflicting 110% weapon damage and generating a high amount of threat. This attack also boosts the Knight's armor rating by 5% for 15 seconds. The armor bonus can be stacked up to 3 times. Grants 2 focus. |
| Cleave | Strikes all enemies in melee range dealing moderate weapon damage to them building high threat and immobilizing them for 6 seconds. |
| Flourish | Forces opponent to attack the Knight for 6 seconds. |
| Hilt Strike | Stuns the target for 6 seconds and builds significant threat. |
| Challenging Call | Taunts all nearby enemies forcing them to attack the Knight for 6 seconds. Also increases the Knight's chance to shield attacks by 60% for the duration. |
| Riposte | Makes a quick saber strike for moderate damage. Riposte can only be used after parrying, deflecting, or dodging an attack. |
| Guardian Leap | Leaps to a group member dealing low damage and high threat to nearby enemies on landing and reducing the threat that party member generates for 6 seconds. |
Read more about Jedi Guardian (including leveling, advanced classes, quest guides, spell rotations, combat, talent trees, mechanics and more…)
---
Jedi Sentinel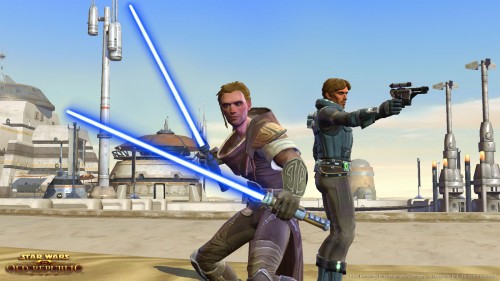 Control and focus are the hallmarks of the Sentinel. Through years of training the Sentinel learns the art of using two Lightsabers simultaneously to create an intricate web of damage that is almost impossible to evade. Manipulating the Force, the Sentinel can see holes in the enemy defense, potential flaws in their own technique and how best to plan for both.
The Jedi Sentinel deals damage primarily through lightsaber strikes, though it does possess several Force powers, most noticeably the iconic Jedi Knight Force Charge.
Primary Focus:
Dual Wield Saber
Saber fighting specialist
Melee DPS
Temporary battle stealth
Skill Trees
The two Sentinel skill trees are Watchman and Combat. The shared Sentinel and Guardian skill tree is Focus.
Watchman – The Sentinel masters the Juyo Lightsaber form, making him more dangerous as a fight goes on.
Combat – Allows the Sentinel to master the Ataru Lightsaber form to rapidly dispatch enemies.
Focus – Specializes in advanced force techniques and the Shii-Cho lightsaber form.
Abilities
Below is a full list of the abilities that a Jedi Sentinel can learn.  Don't forget to take a look at the rest of the abilities for Jedi Knight as well.
| | |
| --- | --- |
| Name | Description |
| Dual Wield | Allows you to wield two weapons. This will penalize the damage and accuracy of both weapons. |
| Arcing Strike | Hits up to three enemies within melee range inflicting 50% weapon damage to each. Grants 1 focus plus 1 additional focus for each target hit. |
| Juyo Form | While in this form the Knight's damage will increase by 2% each time he strikes an enemy with a saber attack. This effect can be triggered once every 1.5 seconds and can stack up to 5 times. The effect only lasts 6 seconds but the duration resets each time you deal saber damage. |
| Disable | Strikes an enemy dealing weapon damage with both sabers and applying a high damage bleed over 15 seconds. Must be dual wielding lightsabers to use this ability. |
| Distraction | Distracts the enemy causing them to lower their defenses. Does no damage but reduces both their parry and deflection chance by 5% for 6 seconds. Distraction also lowers the Knight's threat level against the target. |
| Overload Saber | Charges the saber with additional energy for 15 seconds causing all saber attacks to burn their target for additional elemental damage. This effect may occur once every 1.5 seconds. |
| Twin Arcs | Strikes up to three enemies in melee range striking them for high damage with both sabers. Must be dual wielding lightsabers to use this ability. |
Read more about Jedi Sentinel (including leveling, advanced classes, quest guides, spell rotations, combat, talent trees, mechanics and more…)
Jedi Knight Specializations Guide

,