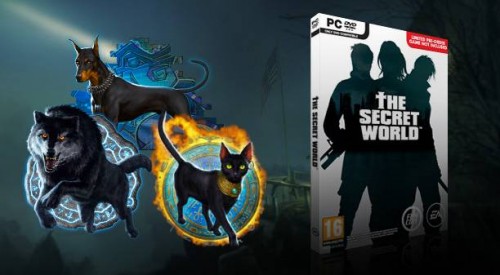 A few months until the release date of the game, and Funcom finally enabled pre-orders for The Secret World. The growing anticipation for this game is evident from the number of new players that keep asking questions about this game, and from what we know so far it's going to be a massive release.
Anyway, there are several game editions you can preorder. The standard edition costs $49,99 and includes the following bonuses:
Guaranteed Early Access to the game, up to four days prior to the game's official launch
An exclusive in-game item providing an experience boost to progression
An exclusive in-game t-shirt featuring a unique monster design
A powerful pet (Ferocious Wolf, Egyptian Cat or Loyal Hound) to support the player in combat
A head start on character naming before the game launches
For serious fans, Funcom also has several other editions you can add to your standard one: the Initiate Pack, Master Pack and Grand Master Pack:
Initiate Pack costs an additional $14,99 and includes a Blood Raven Pet, Faction leather jackets (one for each faction), and a Set of Weaponry
Master Pack costs an additional $59,99 over the standard edition and includes 30 days or game time, one additional character slot, one additional name reservation prior to game launch, a set of seven talismans, 10 experience potions and a 10% lifetime discount on all full-priced item store social clothing items.
Grand Master Pack costs a whooping $199,99, includes everything from the Master Pack, as well as a lifetime subscription to the game and an exclusive Snake Skin jacket.
Preordering the game also gives you access to the upcoming beta weekends, first of which begins May 11 (can't wait!).
To celebrate the occasion Funcom also released a brand new preorder trailer, which you can view below:
So what do you think, is preordering The Secret World worth it? Are you going to prepurchase the game or wait for the reviews to kick in first? Tell us in the comments below!