After leveling several characters and even more full respecs I've had trouble finding a fun and effective build that I wanted to play with. That is until I decided to make my own dual-wielding Duelist class build focused on Dual Strike and Cleave as main DPS tools. The point was to make a melee character with strong DPS and even better survivability to be able to solo any content in Path of Exile.
Note that this build (which I named The Shredder) can easily be used on a Marauder as well with barely any adaptations. More on that below.
---
Important note: the build on this page is outdated. See this post for an updated version of the Shredder after the patch 1.0.0 nerfs to Cleave!

---
Contents:
Why Dual Strike & Cleave
Dual Strike deals massive single-target damage and doesn't need a 6-link item to be effective. With fairly decent weapons my Dual Strike deals 12k DPS with only 3 support gems (no +quality). You can easily obtain 4-link items throughout leveling and you will quickly notice how fast and easy it is to speed through levels with this build.
My Cleave currently deals 8k DPS, also with only three support gems again without +quality. It's a good AoE tool to dispense groups of monsters and you will be using it a lot.
I haven't found any other abilities which would work even nearly as well as Dual Strike and Cleave.
Pros
Not dependent on gear: you don't need any specific expensive unique items to make this work. There are a couple that help greatly but they aren't necessary to make the build work.
No 5 or 6 link items required: that's right, you can deal tons of damage without having to spend a single exalted on an expensive chest.
High survivability: with Kaom's Heart chest I currently have 5k health which is enough to survive in a majority of high-level maps. My resistances are maxed but with my build you can easily put just one or two points into specific elemental resistance if you're lacking. I'm running Grace (evasion) and Determination (armor) auras and have 67% physical damage reduction at level 86, along with 38% block chance (dual wield).
Defensive skill tree build: most points are put into defensive stats for increased armor, health and resists. If you end up hating the build for some reason you could easily change the build to something else entirely with 10-20 regrets.
Great mobility: Leap Slam and +30% movement speed help you get wherever you want to faster, or even jump out of tough situations.
Versatility: you can do any kind of maps; you are virtually unaffected by reflect which is the bane of many other builds. Even Blood Magic maps are easily done, you just need to be a bit more careful due to low armor (since you won't be able to use Determination).
Fun to play: obviously everyone enjoys different things, but dying constantly isn't fun for me which is why I prefer this build. Also shredding everything in your path with 8 attacks per second is unbelievably entertaining to watch.
Cons
Needs high health and resist gear: fortunately these are the only two stats you need to focus on. If you desperately need a specific resistance you can always put one or two points into the skill tree. Nearly all of your gear should have +health, until (or if) you get Kaom's Heart at which point you can focus on anything else (chaos resist, damage, IIR/IIQ).
Needs one mana leech item: you will need gloves, ring or amulet with 2% mana leech. It's not hard to get but you may have to sacrifice more useful stats because of it.
Half regen maps: you might have somewhat decreased DPS in half-regen maps due to the inability to leech mana at a normal rate (funnily enough no regen maps can be done without issues).
Low IIQ/IIR: it's hard to get Increased Item Rarity and Quantity on equipment for this build, but then again every build except dual spark totem has the same issue.
Of all the builds I've seen I have to say that this one may very well be the one with least downsides. You have plenty of damage, you're incredibly durable, fast to level up, works great even with average equipment, and no particular monsters are a problem.
Passive Skill Tree
My current level 86 passive skill tree build (104 points). It's for the Duelist class but as you can see it goes all the way to the Marauder starting points and can be used by either class.
Key points: take health, dual wield block chance, armor, and resistances. There's only about 10 points into pure damage and regardless you will have more than enough of it. If you're needing an extra few points you can always take away a couple from damage and put into a specific elemental resistance (next to Diamond Skin in Marauder section).
Skill tree progression
There's no clear benefits to playing either of these classes each one has its own advantages. Marauders can get to resistances and Resolute Technique earlier, Duelist can pick up Block Chance and more damage. I recommend you play whatever class you prefer, you can get to most important skill points early enough to enable the build to work well with either one.
Note that the skill point progression is more of a suggestion or a guideline rather than set in stone. If you're needing extra armor while leveling don't be afraid to go for it, it's always just a couple of points away. If you need extra Intellect you can also pick up Ancestral Knowledge (Marauder) or Wisdom of the Glade (Duelist) earlier, and you can always remove the points if you don't need them later on. A huge upside to this build is its flexibility, and you will get about 15 respec points throughout leveling from quests which will be more than enough to fiddle around with a few points as you see fit.
As a sidenote, if you want to maximize your experience gain read my leveling guide. With my build you won't even need a group, they'll just slow you down.
Keystones:
Iron Reflexes: converts all your evasion rating into armour. It maximizes the benefits you get from both armor and evasion on gear, passive skill points that further increase it and Grace and Determination auras. Your physical damage reduction won't be under 50% even with the worst of gear. I mainly prefer armor over evasion due to its consistency: it's better to get hit for low damage than for high damage every other time. You can always react with flasks, Molten Shell or just run away if you're taking too much damage, while with evasion you're typically dead if you don't dodge several times in a row.
Unwavering Stance: with this point you can no longer be stunned, and if you have Alpha's Howl (pictured below with equipment) you can't get frozen either. You're literally unstoppable.
Resolute Technique: there's no point in worrying about +accuracy and +critical on your equipment or worse in your passive skill tree. It's a waste of stat, and potential damage you lose from not being able to critically strike is more than made up for by never missing attacks. Try to get to RT as fast as possible. It also makes sure your mana leech is consistent.
Other notes
Expertise (+30 Dexterity above Marauder starting location): I needed extra +dex to equip a weapon: one of my weapons requires 212 Dexterity and this build doesn't waste any points into it. If you don't find the need for it feel free to put a point (or three) elsewhere.
Just below expertise you can put a point into Ancestral Knowledge if you wish to level up your Hatred aura further, although it's not necessary. There is already one +30 Int point, Wisdom of the Glade, which is necessary.
Why no Blood Magic? Because we can't run three auras with it. Plus it's not necessary as Mana Leech covers all ability costs.
Why Celerity (+8% movement speed)? It's just one extra point and I like to move fast.
Why 1 point into Lightning resistance? I'm at 68% lightning resistance currently so this point makes up for lack of it on my equipment.
Recommended Equipment
As mentioned very few specific items are required. Once you start farming maps focus on getting as much health as you possibly can and try to max out your resistances. If you need a mana leech item just buy a ring or an amulet for 1 chaos. Using a Mana Leech gem is a possibility, but it will drop your DPS significantly unless you have a 5/6-linked chest.
Two items which are amazing for this build are Alpha's Howl head and Kaom's Heart chest.
Alpha's Howl
Once you get it you will be able to run Hatred Aura, but more important you can't get Freezed any longer. Getting frozen by bunch of caster skeletons is the number one reason why I died before getting this headpiece so set your goals towards obtaining this: it costs 2 Exalted Orbs at most with a maxed roll, but you can purchase it for just over 1 Ex as well if you're patient.
Another upside to this headpiece is that it enables you to use a third aura (Hatred) due to its 8% reduced reserved mana for auras, and it also adds 2 additional levels to auras you use in this item so your Grace and Determination are at level 22 and have increased effectiveness.
Kaom's Heart
Pretty much the bread and butter of every melee build in this game, nothing beats a +1000 health chest. I got lucky and it dropped for me but otherwise you might need to spend even 25 Exalted Orbs or more for this item. It's not a realistic goal if this is your first character so use a chest with high armor or evasion, high health, and resists. You could purchase one for far less than 1 Exalted, unless you want 5 or 6 linked sockets (which as mentioned isn't necessary).
With several % health regen skill points and Kaom's I have over 200 health regen/second in addition to life leech from items (and 2% from passive skill tree). 95% of the time I'm at max health, only in extreme cases you have to resort to using Flasks, Rejuvenation Totem, or escape the engagement.
Weapons
Any kind of weapons will do. Obviously you'll focus on physical damage rather than elemental, but the upside is they are much cheaper if you want to buy them. Having lifesteal is helpful but not mandatory. I prefer swords (Rapier, Foil etc.) for their higher attack speed.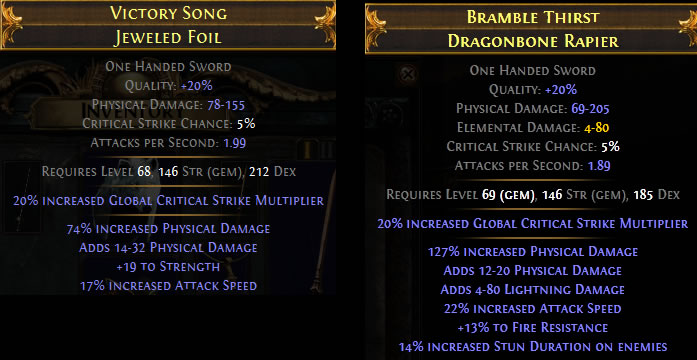 Priorities/summary
In general your equipment should prioritize resists, health, armor and evasion (in that order). Get one item with mana leech so you don't need to use a gem, and try to save enough currency to buy Alpha's Howl: the ability to use Hatred aura will increase your DPS quite a lot.
Skill Gems
Dual Strike

Your main single-target ability. You don't need +quality since it only increases your critical strike chance which you have 0% due to taking Resolute Technique in the passive skill tree.

Support gems: Multistrike*, Melee Physical Damage, Faster Attacks (none are required with +quality but if you're rich of course get them).

Cleave

Multi-target damaging ability. Having +20% quality increases its attack speed by 10% so buy it if you can afford.

Support gems: Faster Attacks, Multistrike, Melee Physical Damage.

Leap Slam

Since it scales with attack speed you can jump around the map extremely fast. I find it very useful in many situations especially as an escape tool if things get rough, but you'll also be able to leap over some ledges or jump to pick up your loot quickly.

Support gems: I use Faster Attacks, but none are required. Blood Magic is preferred so you don't need to worry about the cost. No +quality required (adds stun duration).

Rejuvenation Totem

Extremely helpful when you run out of health and want to regen quicker. Quality adds increased totem life, helpful but by no means necessary.

Support gems: none required, you can use Blood Magic or Faster casting if you wish.

Molten Shell

Shield absorbing over 2000 damage at max rank? Yes please. It also adds 1000 additional armor, further increased by your passive skill tree. When you expect damage, walk into tons of melee mobs or fight against particular bosses it helps prevent a lot of damage and might just save your life. +Quality only adds chance to ignite monsters so don't bother with it.

Support gems: none required, I use Blood Magic. Faster Casting is also a good choice. No quality necessary.

Grace

Adds 1300ish additional evasion rating at max rank, further increased by multiple points in your passive skill tree. Incredibly helpful as it increases your armor substantially. +Quality only adds radius so feel free to skip it.

Support gems: Reduced Mana, Blood Magic if you don't have Alpha's Howl and think you can afford losing 400 health. +Quality on Reduced Mana gem does not work on auras (intended).

Determination

Further increases your armor by 50%. A must have aura with no +quality required.

Support gems: Reduced Mana.

Hatred

Unless you have high amounts of health you don't want to use it at first. You can use it as soon as you get your Alpha's Howl. +Quality only adds increased radius therefore not necessary. Be careful about Intelligence requirements: you might not want to level this gem past level 10 (it has miniscule DPS increase anyway).

Support gems: Reduced Mana. No +quality needed.
* Multistrike is not a frequent skill gem drop and you may have to purchase it (typically around 3 Chaos Orbs). It can not be obtained from quests. As an alternative you can use Added Fire Damage until you can obtain Multistrike.
All the other gems are easily acquired from quests or drops, and if you happen to need one you can easily buy it for as little as 1 Orb of Alchemy.
Gem rewards from quests
| | | |
| --- | --- | --- |
| Skill gem | Duelist | Marauder |
| Dual Strike | Enemy at the Gate (Act 1 Normal) | Enemy at the Gate (Act 1 Normal), Mercy Mission (Act 1 Normal) |
| Cleave | Dying Exile (Act 1 Normal) | Enemy at the Gate (Act 1 Normal), Mercy Mission (Act 1 Normal) |
| Leap Slam | The Caged Brute (Act 1 Normal), Intruders in Black (Act 2 Normal) | The Caged Brute (Act 1 Normal), Intruders in Black (Act 2 Normal) |
| Rejuvenation Totem | Lost in Love (Act 3 Normal), Enemy at the Gate (Act 1 Cruel) | Lost in Love (Act 3 Normal), Enemy at the Gate (Act 1 Cruel) |
| Molten Shell | None. | The Caged Brute (Act 1 Normal) |
| Grace | Enemy at the Gate (Act I Cruel), The Caged Brute (Act 1 Cruel), Lost in Love (Act 3 Cruel) | Enemy at the Gate (Act I Cruel) |
| Determination | Enemy at the Gate (Act 1 Cruel) | Enemy at the Gate (Act 1 Cruel), The Caged Brute (Act 1 Cruel), Lost in Love (Act 3 Cruel) |
| Hatred | The Caged Brute (Act 1 Normal), Intruders in Black (Act 2 Normal) | Intruders in Black (Act 2 Normal), Lost in Love (Act 3 Normal) |
| Faster Attacks (x2) | The Siren's Last Cadence (Act 1 Cruel & Merciless), Sharp and Cruel (Act 2 Cruel and Merciless), Sever the Right Hand (Act 3 Cruel and Merciless) | Mercy Mission (Act 1 Merciless), The Siren's Last Cadence (Act 1 Merciless), Sever the Right Hand (Act 3 Merciless) |
| Melee Physical Damage (x2) | Mercy Mission (Act 1 Cruel) | Mercy Mission (Act 1 Cruel & Merciless), The Siren's Last Cadence (Act 1 Cruel & Merciless), Sharp and Cruel (Act 2 Cruel & Merciless), Sever the Right Hand (Act 3 Merciless) |
| Reduced Mana | None. | Sharp and Cruel (Act 2 Cruel & Merciless), Sever the Right Hand (Act 2 Cruel & Merciless), Mercy Mission (Act 1 Merciless), The Siren's Last Cadence (Act 1 Merciless) |
| Added Fire Damage (x1) | The Siren's Last Cadence (Act 1 Normal) | The Siren's Last Cadence (Act 1 Normal & Merciless), Sharp and Cruel (Act 2 Normal & Cruel), Sever the Right Hand (Act 3 Normal & Merciless), Mercy Mission (Act 1 Cruel) |
| Blood Magic | Mercy Mission (Act 1 Merciless), Sharp and Cruel (Act 2 Merciless) | Mercy Mission (Act 1 Cruel & Merciless), The Siren's Last Cadence (Act 1 Cruel & Merciless), Sever the Right Hand (Act 3 Cruel & Merciless) |
Just now when compiling the list above I noticed how Marauders have easier access to most skill gems you need so you may want to try my build with Marauders rather than Duelists. I hope the table helps you plan your quest rewards and figure out which gems to take. However none of these skill gems are expensive and you could buy everything you need for just a few Chaos Orbs.
Alternatives
If you're running a 5 or 6 linked chest you can use Added Fire Damage as an additional support gem, or even as an alternative to Multistrike if you for some reason prefer. AFD deals less damage than Multistrike but only slightly.
Also you may want to consider using Increased Item Rarity and Increased Item Quantity support gems on Dual Strike once your Cleave is strong enough for fast clears. My Dual Strike linked with Culling Strike + IIQ + IIR support gems still deals 5k damage, more than enough to finish bosses and rare monsters for noticeably increased drops.
At later stages when your Cleave reaches about 10k DPS or above and you get your Kaom's, you can consider completely removing Dual Strike. Four added gem slots will enable you to switch Grace for Haste (or even Purity) aura in your head piece, and use Grace, Anger and Wrath with a Blood Magic support gem. That way you can run 6 auras for increased damage at the cost of only 600ish health.
As a bonus you can also run Clarity for increased mana regeneration if you have problems in half-regen maps.
Curses
Rejuvenation Totem and Molten Shell are definitely not mandatory in this build. It's just the way I like to play but you could switch them with some curses if necessary.
Enfeeble – affected monsters have reduced Accuracy, Critical and Damage. Even a rank 1 Enfeeble reduces monster damage by 25% so if you have trouble surviving in some situations or against particular bosses feel free to consider it.
Vulnerability – increases your physical damage by 25%-34%. Be careful about leveling it fully as level 20 Vulnerability requires 151 Intelligence.
Warlord's Mark – you gain increased life and mana leech on affected monsters: 3%-7% life leech and 1-3% mana leech depending on gem level. You can easily level it to 20 as it only requires Strength. If you need extra life leech or can't get mana leech any other way consider using Warlord's Mark.
Bandits
Normal: help Oak and get +40 health
Cruel: help Oak for +18% physical damage
Merciless: kill them all (+1 skill point)
Flasks
I prefer using a setup of 2 health flasks, 1 hybrid (for cases if I run out of mana), 1 Granite and 1 Amethyst. You can see the flasks that I currently use below:

They aren't perfect rolls (except the Hybrid one) but they serve the purpose. I think it's very important to have one "instant recovery when on low life" flask for situations when you suddenly drop near death, due to my low Chaos resist I like having an Amethyst one in case it's needed, and the Hybrid one helps in case you happen to run out of mana and need to Leap Slam or use a Rejuvenation Totem.
I also like all my flasks to have either bonus Armour or Evasion on use which is further scaled with the passive skill tree. Doubling your armor for nearly 5 seconds with a Granite Flask is crucial to surviving things like Vaal's smash and such.
With the high movement speed and overall mobility of my Shredder build I never felt the need to use Quicksilver Flasks, although I did notice that many players often use 3-4 of them for reasons unknown to me.
Gameplay Videos
I recorded several map runs so you can watch the build in action. My full gear at the time of recording it is here. As you can see besides the two unique items my gear isn't anything special.
You can watch many more of my boring map runs in this playlist, also embedded below.
If you have any specific map run requests or something else let me know!
Closing Thoughts
From all the builds I've seen the Shredder is the most versatile in my opinion. There's no monsters or skills you need to be afraid of and unlike many other builds it doesn't require 50 Exalted Orbs to be viable, in fact it doesn't require any specific gear. It's very flexible while leveling and enables you to overcome shortcomings on your equipment with a few skill points into armor, resistances or health which are always conveniently placed. The build's extremely high attack speed (I'm currently doing 8 attacks per second) is a thing to behold and you'll probably spend the first few hours laughing your ass off at how ridiculous it looks.
In all my Wraeclast adventures I came across one or maybe two dual-wielding Duelists with (possibly) the same build so this isn't extremely popular among players. If you're looking for a fun, effective, fast leveling, low-cost melee build that isn't used by every other player than this might be exactly what you're looking for.
Questions? Feel free to ask me anything about the build and I'll do my best to answer it.